I wanted to save you time, so i've searched the internet and found some great recipes that are delicious, and will help you move towards your health and wellness goals.  Here are some of my favorite recipes for you to try!
Watercress Salad
from foodnetwork.com
Watercress is a nutrient packed vegetable that is virtually calorie free! With only 4 calories in a cup of watercress (this is without dressing of course), and almost 10 times the vitamin A found in iceberg lettuce, this veggie is one we should include more often. Using watercress instead of more common greens such as green leaf or romaine lettuce provides variety, and as we all know, variety is the spice of life!
Click here to check out the recipe
Here`s another great recipe. This one is for Balsmic Chicken-yum!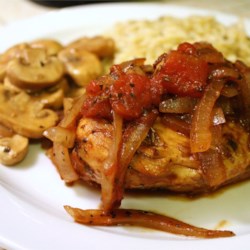 from www.allrecipes.com
Chicken is quick and easy, and naturally low in fat. Compared to chicken thighs, chicken breast have about 1/3 the saturated fat found in thighs, which is very especially important if you are watching your cholesterol. Don't be afraid to use a small amount of healthy oils when cooking to provide that extra flavor. This recipe uses good old olive oil
Click here to check out the recipe
Please contact me and i will personally let you know which meal plan would suit you best.